a few months ago, I went dairy-free.
well, almost dairy-free.
semi-free.
I still eat regular cheese, but I have eschewed milk and ice cream, and other milk-related products.
which, for me, as a sugar addict and self-proclaimed 'ultimate sweet tooth', has been an adjustment.
I've been trying every sweet, dairy-free treat I can get my hands on. and lemme tell you what, I don't miss milk at all.
I've rounded up a few moo-less milky delights to share with you, so that you can partake in dairy-free ecstasy, too.
these are the best of the best.
the A-team of dairy-free sweet thangs.
enjoy!
No. 1 | Chloe's Oatmilk Salted Caramel Pops
these heavenly bars of deliciousness will make you say, "wait, what's ice cream, again?"
seriously, they're that good.
the sweet, hearty flavor of the oatmilk combines with the rich caramel to create a unique and satisfying experience.
what's more satisfying than the taste is the TEXTURE.
I'm a huge picky eater, mkay. like, pickier than your toddler. (or my toddler). so, when I say that this is one of the best textures ever to dance across the doorstep of my tooth-cave, I'm not fibbing.
it's best to let these sit out for a moment before consuming, (or you can just demolish it immediately like I do…) but oh boy, once you do…get ready for your mind to be blown. it's a far different texture than that of ice cream or even a traditional pop. but it's thick, luscious, and well, you're just gonna have to try it and see what I mean.
No. 2 | Blue Diamond AlmondBreeze Chocolate Milk (sweetened)
this chocolate milk is the best I've ever had.
hands down, no contest. and that *includes* regular chocolate milk. in fact, don't tell the cows, but it's better than any dairy-full milk I've ever tasted.
on my hunt for good-tasting non-dairy milks, I've tried a couple. I found Silk to be too bitter, but Almond Breeze's choco milk is smooth, rich, decadent, and extremely chocolatey.
I choose to drink mine out of a vintage chalice I found at a local thrift store, but I suppose you could just use a regular cup. (you won't feel like a princess, tho, cause you've got to have the pink sherry glass from Goodwill for that.)
it's also great for freezing into pops or cubes for smoothies and a variety of smooth, chocolatey delectables. there's a whole chocolate-almond-milk world for you to explore.
No. 3 | SO Delicious Dipped Salted Caramel Cashew Bars
it's like being a kid at the ice cream truck again, except you are no longer young, everything is more expensive, and cashewmilk has made your life 3x (rough estimate) better.
these delightful bars taste very similar to my next pick, SO Delicious Salted Caramel Cluster Cashewmilk Dairy-Free Frozen Dessert. only difference is, these bars don't contain any *whole* nuts.
if you like Magnum ice cream bars, but you're looking for a dairy-free option, these guys are your pick.
smooth, creamy center with a naturally nutty and rich flavor (thanks to the cashewmilk). cashewmilk also gives the center its thicc, delightful texture. coat that bad boy in some luxurious, velvety chocolate and you've got yourself a decadent dessert perfect for watching rom-coms and pretending you're the protag. (don't act like you've never done it).
and hey, if caramel isn't your thing, SO Delicious also has a mocha fudge option. which, I mean. IT'S MOCHA FUDGE. mocha fudge is never wrong.
No. 4 | SO Delicious Salted Caramel Cluster Cashewmilk Non-Dairy Dessert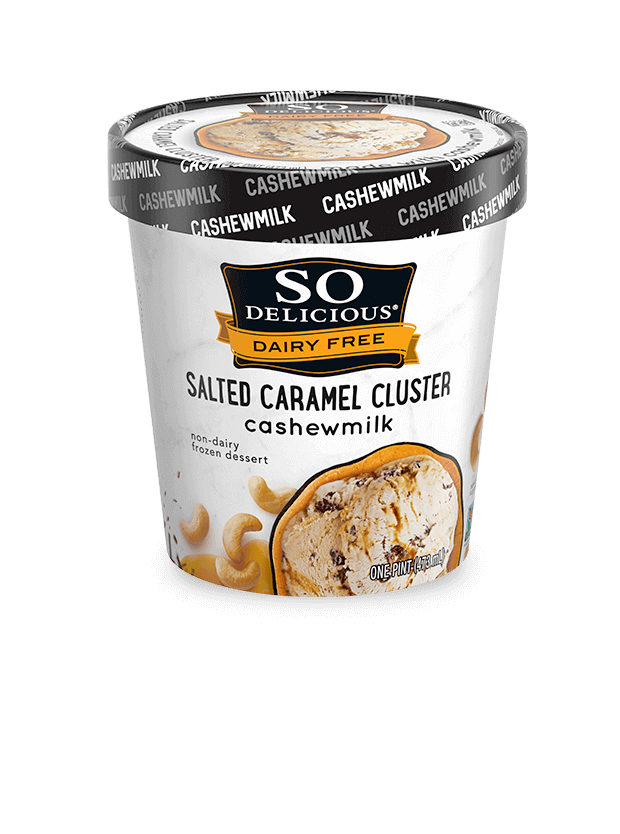 this is the best non-dairy ice cream in existence. there. I said it. (sorry, Ben. and Jerry.)
I have searched high and low for a good non-dairy ice cream, and I've been strung along by brands that promise a creamy, ice-cream like experience, but only offer me a broken heart and a crystallized, icy, mess.
following Elsa's lead, I let it go and forged on.
that's when I discovered SO Delicious, and a gateway opened. the genius behind this particular flavor and brand, is that cashewmilk lends itself so naturally to frozen dairy treats. it's got the body, the taste, and the stamina to accept loads of flavor combinations. he just sits there, patiently, in your freezer, not growing one ice crystal. strong, flavorful, sweet, and spoonable…if this ice cream were human, he'd be the perfect boyfriend.
disclaimer here, i really, really wanted the best dairy-free ice cream crown to go to Ben & Jerry's; a. because they're my favorite brand of ice cream, ever, (for many reasons) and b. because they have such an amazing assortment of flavors.
but I've noticed that when it comes to moo-free treats, you often have to sacrifice the goodies, like toppings, sauces, multi-flavor combos, etc. in order to have a great base flavor.
that's not the case with SO Delicious. the base for this flavor is SO good, you could eat it by itself, but you don't have to. they've thrown crunchy cashews in with real ribbons of caramel, and little shaves of chocolate. if I sound like a snake-oil salesman right now, it's because I really am selling you a cure.
it's the cure for a bad date, the cure for lackluster non-dairy ice cream, and the cure for a hard day at the office (or at home, if you're working remotely).
seriously, it's the best non-dairy ice cream I've found, and you should try it…if for no other reason than as a foolish attempt to prove me wrong.